| | | |
| --- | --- | --- |
| | | |
| | Empty | |
| | | |
| | | | |
| --- | --- | --- | --- |
| Country | | United States | |
| State | | Florida | |
| City | | Englewood | |
| Address 1 | | 362 West Dearborn St. | |
| Zip/Postal Code | | 34223 | |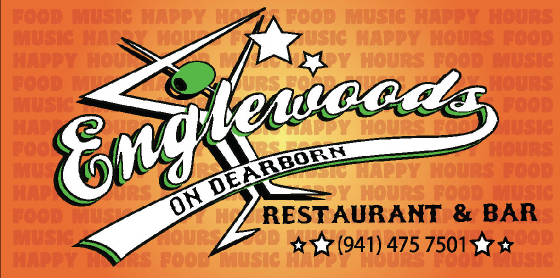 Englewoods on Dearborn is one of the finest restaurants in this area.  Drop in for a meal or a cocktail and you will be heartily welcomed by Merill and Tony!  You will soon see why this restaurant is such a hit!!
Reservations suggested but not required
Join us and have a ball with our magnificent entertainment!  Englewoods on Dearborn is the place to dance the night away and make new friends.  Drop by and stay a while!
Check out our Entertainment page for the bands and entertainers to make you feel welcome and enjoy yourself.  We are the HOT SPOT in Englewood---- bar none!!!
Tony was raised in a family that operated one of the finest restaurants in Austria. Great food and good friends were common in his youth and that shows today! Some of you may know their family Restaurant.  It was "Gallneukirchen" .  Tony's first restaurant was in Enns, Austria known as "Vehikel".  Tony went to school for three years beginning in 1981 to perfect his craft as a Restaurateur
Merrill represented the finest of the fine dining restaurants on Marco Island and now brings her expertise to Englewood.  She is one of the friendliest hostesses you could want in one of the finest restaurants!!
There are only three words to describe Englewoods on Dearborn...............................
FUN FUN FUN!!!
Check Out Our DINNER MENU!
Experience Our Drink Menu!!!
Enjoy Our Lunch Menu!!
EVERY TUESDAY-KARAOKE 6:30-10PM
EVERY TUESDAY-
TRIVIA 6:30-9PM (CASH PRIZE)
Englewoods On Dearborn
Englewoods on Dearborn Aug Entertainment
1935 Days Ago
| | | |
| --- | --- | --- |
| | | |
| | Empty | |
| | | |
There are no comments yet